Ducati introduces lightweight motorcycle seat support rear frame
Forged molding compound (FMC) material from Mitsubishi Chemical and Gemini Composites replaces an aluminum part on Ducati Hypermotard 939, reducing part weight by 40%.
Mitsubishi Chemical Corp. displayed a lightweight motorcycle seat support rear frame developed through joint R&D between MCC subsidiary, Gemini Composites LLC, and Ducati Motor Holding in May 2022 at JEC World 2022.
The seat support rear frame comprises the entire aft frame of the vehicle, forming an integral part of the chassis. It is designed based on fatigue strength criteria, but also must meet stiffness, static strength, and finish requirements. The part developed replaces a cast aluminum component for the Ducati Hypermotard 939, a vehicle designed for both road and off-road racing, and constitutes the main structural support for driver, and optionally passenger and cargo bins.
How it is made
The rear frame is made from Mitsubishi Chemical Corp.'s forged molding compound (FMC) material, said to be an advanced version of carbon fiber sheet molding compounds (CFSMC) and, combined with a modified molding process and dedicated design philosophy, is said to be capable of yielding parts with properties suitable for primary structural applications.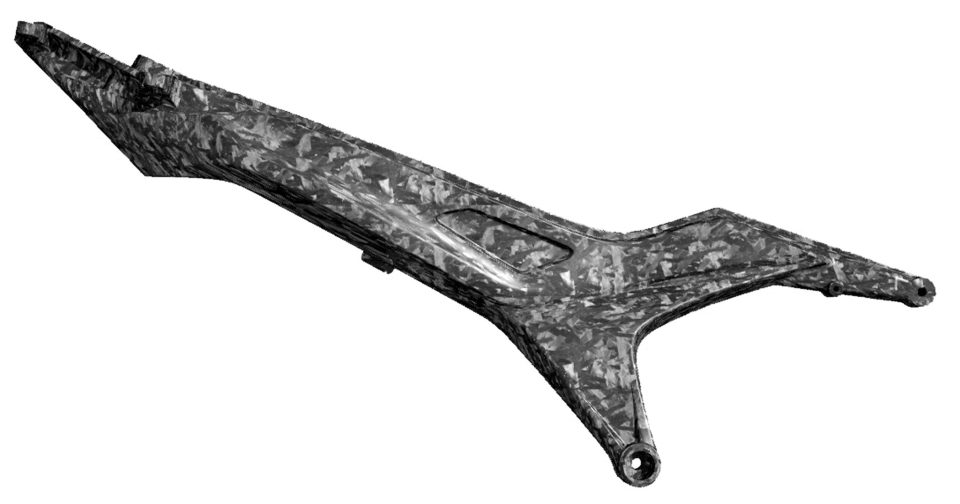 The forged composite part weighs 0.8 kilograms (1.76 pounds), while the aluminum one is typically 1.35 kilograms (2.98 pounds) per side, which represents a total savings of 1.1 kilogram (2.43 pounds), while maintaining the same cost and rate targets for the baseline aluminum component. The total motorcycle weight is 167 kilograms (388 pounds).
Carbon Fiber FMC (CF-SMC)
Carbon Fiber FMC (CF-SMC) is a sheet-type intermediate material made of cut high-strength carbon fiber impregnated with thermosetting resin. This material can be press molded, substantially reducing molding time compared to conventional autoclave or oven molding.
In addition, compared with carbon fiber intermediates of Continuous fibers, the random arrangement of Short fibers ensures fluidity and makes it possible to mold intricately shaped parts like those with ribs and bosses.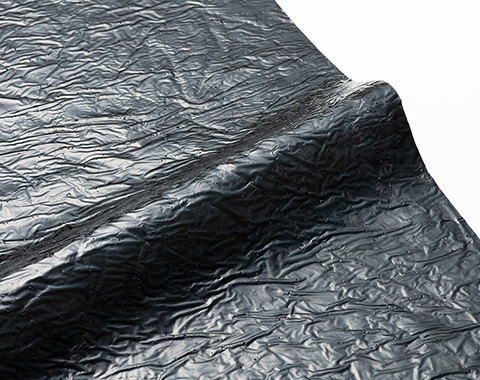 Mitsubishi Chemical's FMC (CF-SMC) is suitable for complex shapes that can be mass-produced by press molding. It can also help to reduce the weight of parts. It is already being used for mass-produced auto parts, but its range of applications is likely to expand much further. Mitsubishi Chemical offers total support, from production and supply of carbon fiber FMC (CF-SMC) materials, to planning, design, and development.
Press molding with Carbon Fiber FMC (CF-SMC) enables high cycle mass production. Conventional methods for processing carbon fiber, such as autoclave and oven molding, have a long production cycle, making them unsuitable for mass production. Carbon Fiber FMC (CF-SMC) has started to be used for automotive parts that require large-scale mass production.
It is also likely to be used in sports applications, as an alternative to metal and aluminum parts.
"This technology enables Ducati to save 40% weight for the part, and 3% on the overall weight of the motorcycle structure," Dr. Di Piazza, head of innovation and R&D services at Ducati says. "This yields lower fuel consumption and emissions, as well as higher handling and better dynamic response of the vehicle."
Dr. Feraboli, chief technology officer (CTO), and Dr. Wade, chief engineer of Gemini, performed the design and analysis of the part in conjunction with Ducati, while the tool design and fabrication for the prototypes were performed by Claudio Chiara, owner principal of C.R.C. Model (Torino, Italy), offering more than 26 years of experience in toolmaking for different polymer and composite technologies.
As part of the testing process, the motorcycle frame was installed on a mule frame and underwent static and cyclic testing at the Ducati R&D test lab with varying amounts of ballast to simulate the usage on the road. It successfully passed all durability requirements without degradation.
"Mitsubishi was honored to participate in this project and we look forward to transferring this technology to other vehicles," Koichi Akiyama, senior engineering manager at Mitsubishi, says. "We are convinced FMC will be a great option to replace structural parts which are commonly made by forged or cast aluminum to help reduce weight and increase mobility."
More information
www.m-chemical.co.jp