HSD unveils new eletrospindles at JEC World 2022
At the JEC World 2022, HSD unveils a range of high-quality products, derived from a close study of the market and a profound knowledge of the requirements of companies working with composite materials.
Everyday life is completely permeated by technological materials with multiple and diverse applications: from transportation to construction, from telecommunications to consumer goods, and from food to healthcare, technological materials are increasingly replacing other materials.
HSD works alongside businesses which operate in these sectors of application, offering reliable, high-performance, customisable technology for companies of all sizes.
HSD has created a range of products that are specifically designed for the processing of plastics, composites and thermoforming materials, which consists of: electrospindles with automatic and manual tool change, C-axes, bi-rotary heads and multifunction units, as well as a wide selection of aggregates.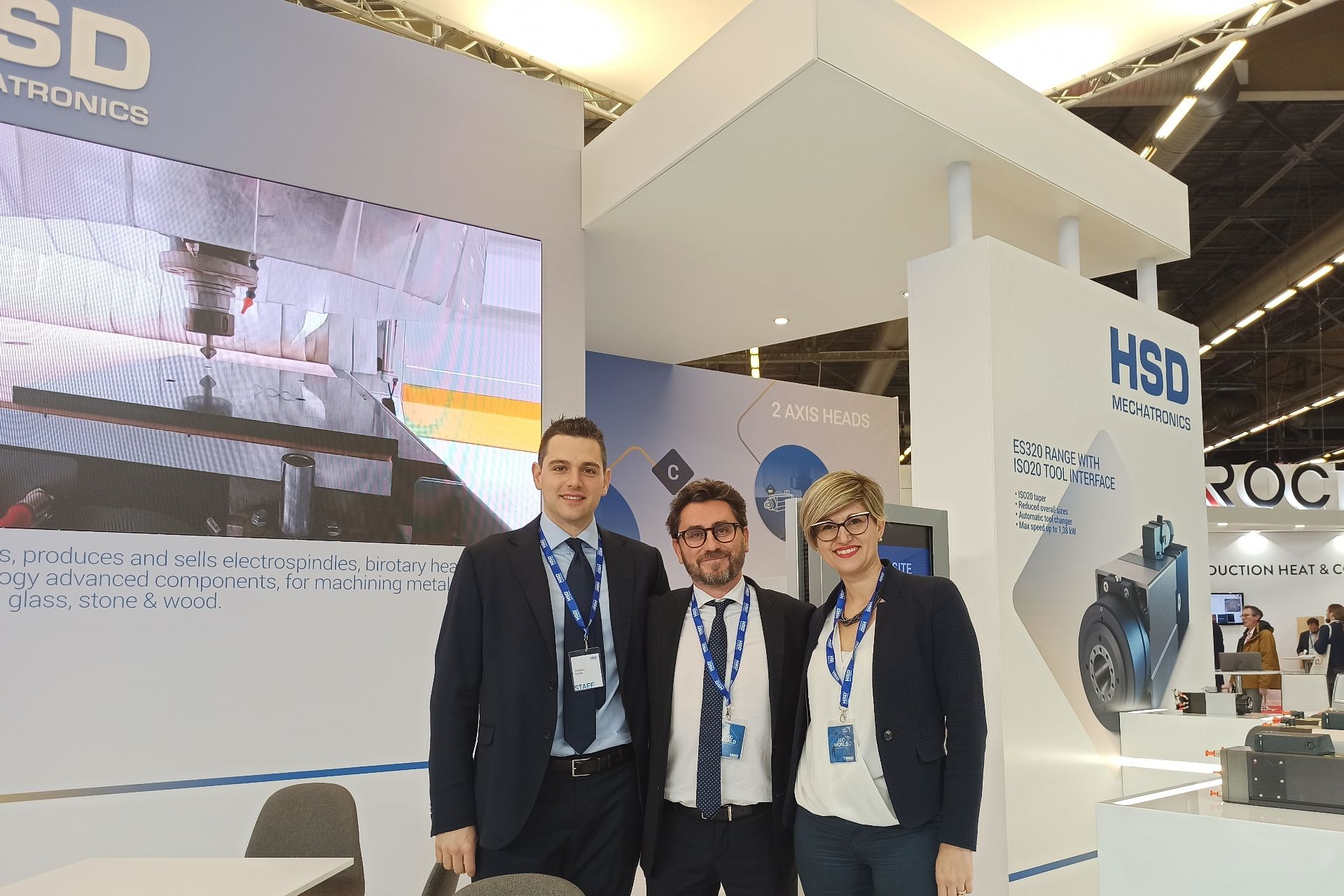 The ES951 range of eletrospindles designed for 3-axis machining centres and robotic applications is characterised by its low cost, integrated IoT system and wide range of power options to choose from. Customers can choose to configure their electrospindle with three-phase asynchronous motors with anything from 6.5 kW to 25kW of power, along with compressed air, electric fan or liquid cooling systems.
The full ES951 range enables interaction with the machine via a choice of IoLink, Ethercat or Canopen fieldbuses, and among other options, is available with a MEMS accelerometer made by HSD and a temperature probe to monitor the temperature of the front bearings.
The ES779 is another equally important family of electrospindles with automatic tool change, designed for use on 3-axis machining centres and bi-rotary heads. They can be fitted with three different motors: two asynchronous motors of 10 and 15kW respectively, and a 22kW synchronous motor, which delivers more torque (20Nm up to 10,600rpm) with the same overall dimensions. Another advantage of this family of electrospindles is the fact that a rotary joint can also be fitted, in order to provide pressurised dry air along the axis and thus through the tool that is attached, up to a maximum speed of 24,000 rpm.
Finally, HSD presents the brand new ES320 range of solutions with automatic tool change at the JEC trade fair. This electrospindle features an ISO20 connection and a 1.1kW asynchronous motor in S1 (continuous service) cooled by an electric fan, and can reach 24,000 rpm. The electrospindle is designed to carry out milling and scoring operations on small 3-axis Cartesian machining centres, and can be integrated on combined machines that perform both 3D printing of composite materials and the related finishing operations for the removal of swarf. The ES320 can be used both in industrial environments and on small workstations in domestic settings.
At the JEC trade fair, they also present their new "composite" catalogue, which contains all the HSD solutions for plastics and composite materials – unique technologies subject to continuous improvement, in order to provide their customers with the best production results.
Meet HSD at JEC World 2022, hall 6, booth D25.
More information
www.hsd.it