Hyosung to expand carbon fiber production for hydrogen tanks
South Korea's Hyosung Advanced Materials Corp. is expanding its carbon fiber production by adding a third line to meet the growing demand for the material used to make hydrogen tank cylinders.
The carbon fiber manufacturing unit of Hyosung Group said on Wednesday it will invest 46.9 billion won ($39 million) to expand its annual production capacity at its main plant in Jeonju by 2,500 tons to 9,000 tons. The company already expanded its Jeonju plant capacity in 2020 and 2021.
Hyosung is the only Korean company that can produce high-intensity, high-strain carbon fiber used for industrial applications, including compressed natural gas (CNG) fuel tanks and hydrogen tanks in vehicles.
The company developed its first carbon fiber product called TANSOME in 2011 and started mass production in 2013. Hyosung said earlier it will spend up to 1 trillion won to increase its annual carbon fiber production capacity to 24,000 tons by 2028.
Once the planned capacity expansion is completed by 2028, the company will become the world's third-largest carbon fiber maker, controlling about a tenth of the global market, it said.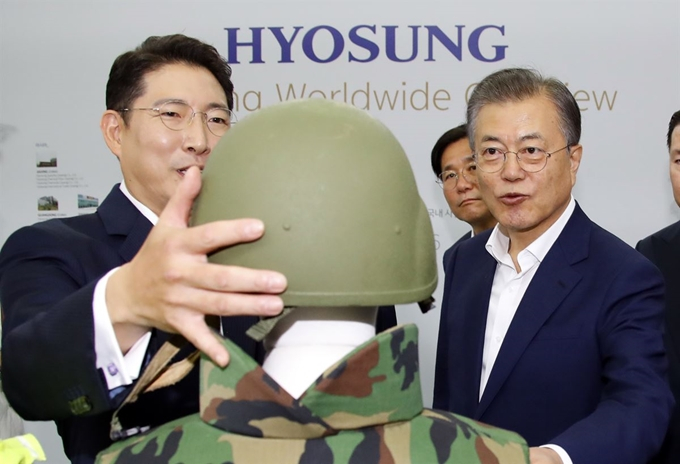 Shares rise
Shares of Hyosung Advanced Materials finished 4.6% higher at 510,000 won on Thursday, outperforming the broader market's 1.6% rise. Over the past month, Hyosung has advanced 17.5% on expectations that hydrogen will become an economically viable source of alternative energy when oil prices surge.
According to stock market tracker FnGuide, the market consensus for Hyosung's stock is 826,000 won, meaning more room for a further 62% increase from the current level. The company's 12-month forward price-earnings ratio (PER) is 8.5, lower than a multiple of 9.4 three months ago.
"Hydrogen-related stocks will get a boost if politicians resume discussions on revising the hydrogen promotion act following the presidential election next week," said eBest Investment & Securities analyst Anna Lee.
Want to know more about the links between hydrogen and composites ?
Discover and participate in the Country on Stage Korea session organized at JEC World 2022. Country on Stage sessions are unique opportunities to discover the composites industry structure and strengths of the represented countries. The program is featuring keynote presentations, discussions with key players, and showcase business cases which demonstrate the country's composites expertise in key market sectors and technologies.
Country on Stage Korea
May 3rd 10.00 – 11.25 AGORA 5 (Hall 5)
The Sustainable Future – Hydrogen Unleashes Sustainable Mobility in Korea
South Korea sees hydrogen power as the country's "future bread and butter", especially in mobility with almost one million hydrogen vehicles by 2030 and almost three million by 2040, accelerating the transition to cleaner vehicles. But challenges remain with the technology and one of the greatest challenges of future vehicle concepts will be high-pressure vessels and the materials & processes used to manufacture tanks, as well as the development of charging infrastructure. Discover how hydrogen storage will enable the Future of Mobility and how South Korea is vying to win the race to create the first hydrogen-powered society.
This article was originally published on The Korea Economic Daily with editorial changes made by JEC Group.
More information
www.m.hyosung.com