Janicki supports Saildrone Voyager Program
Janicki, an engineering and manufacturing company, is supporting the Saildrone Voyager program with composite parts, machining and assemblies. Janicki's extensive experience manufacturing tools and parts for the marine and autonomous vehicle industries is an excellent match for Saildrone's revolutionary vehicles.
Saildrone, a U.S. based company, designs, manufactures and operates a fleet of the world's most capable, proven and trusted uncrewed surface vehicles (USVs). The newest addition to the Saildrone fleet, the 33-foot Voyager, is designed for near-shore ocean mapping at depths of up to 300 meters and providing maritime domain awareness. Powered primarily by wind and solar, the Voyager can stay at sea for over six months providing real-time data without the need for a crewed support vessel.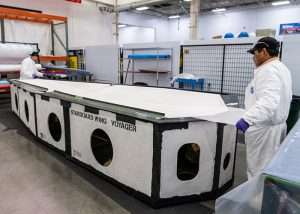 Janicki manufactures the Voyager wing, keel and various other composite components. These technologically challenging composite and metal structures leverage Janicki's expertise in engineering, fabrication, high-precision 5-axis milling and quality assurance. Janicki's highly skilled teams have been working on a rapid timeline to produce and deliver parts for the expanding Voyager program.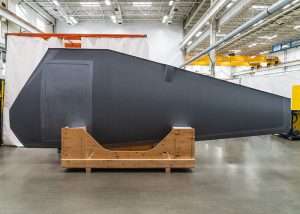 "Janicki is proud to partner with Saildrone in their work to advance our knowledge of the marine world," said Jeff Steensland, Vice President of Aerospace at Janicki. "Our teams are focused on Saildrone to scale their technologies and bring Voyagers into service quickly. We are grateful for the opportunity to work with such an amazing team at Saildrone."
"Saildrone is excited to be working with a great partner like Janicki as we look to scale our capacity to meet our growing customer demand. Their expertise and know-how in the marine composites industry will ensure that high-quality components will meet the demanding challenges of the world's oceans. I am looking forward to seeing their great products out at sea and supporting Saildrone's vision for a healthy ocean and a safe, sustainable planet," said Saildrone COO Mark Cuyler.
More information
www.janicki.com