Kaïros Environnement met à l'eau le premier voilier à foil en lin
Le challenge était de taille : parvenir à faire décoller un dériveur à foil intégrant des fibres de lin. Pour relever ce défi, l'équipe de Kaïros Environnement — spécialisée dans l'intégration de matériaux biosourcés dans de multiples applications industrielles — s'est adressée au constructeur Birdy Fish pour se procurer le moule d'un de leur modèle phare : Le Birdy Fish.
Kaïros & le premier voilier à foil en lin
Après 4 ans et demi, de recherche & développement, la fibre de verre renforçant habituellement la coque, le pont et la structure de l'embarcation, a été substituée par des fibres naturelles de lin fournies par le producteur normand Depestele.
Une nouvelle démonstration des potentiels techniques à explorer du côté des bio-matériaux, et à valoriser pour toutes les propriétés qu'on leur connaît déjà :
production moins énergivore que les fibres synthétiques
biodégradabilité
confort ergonomique…
santé des travailleurs
production française
Une démarche qui s'inscrit dans le projet européen FLOWER
Les recherches ayant permis d'aboutir à l'intégration de fibres naturelles sur le Birdy Fish made in Kaïros ont été menées dans le cadre du projet de recherche européen FLOWER. Le projet FLOWER a pour objectif de développer des renforts à base de fibres de lin produits localement et à un coût inférieur pour l'industrie des composites. Les résultats de ce projet visent à obtenir comme alternatives viables des composites plus légers, durables, rentables et respectueux de l'environnement pour les secteurs automobile, du nautisme et de la publicité sur lieu de vente.
8 partenaires, dont 4 académiques (Université de Bretagne Sud, INRA de Nantes, University of Cambridge et University of Portsmouth) et 4 industriels (Kairos, Teillage Vandecandelaère, EcoTechnilin et Howa-Tramico), contribuent à ce programme d'envergure.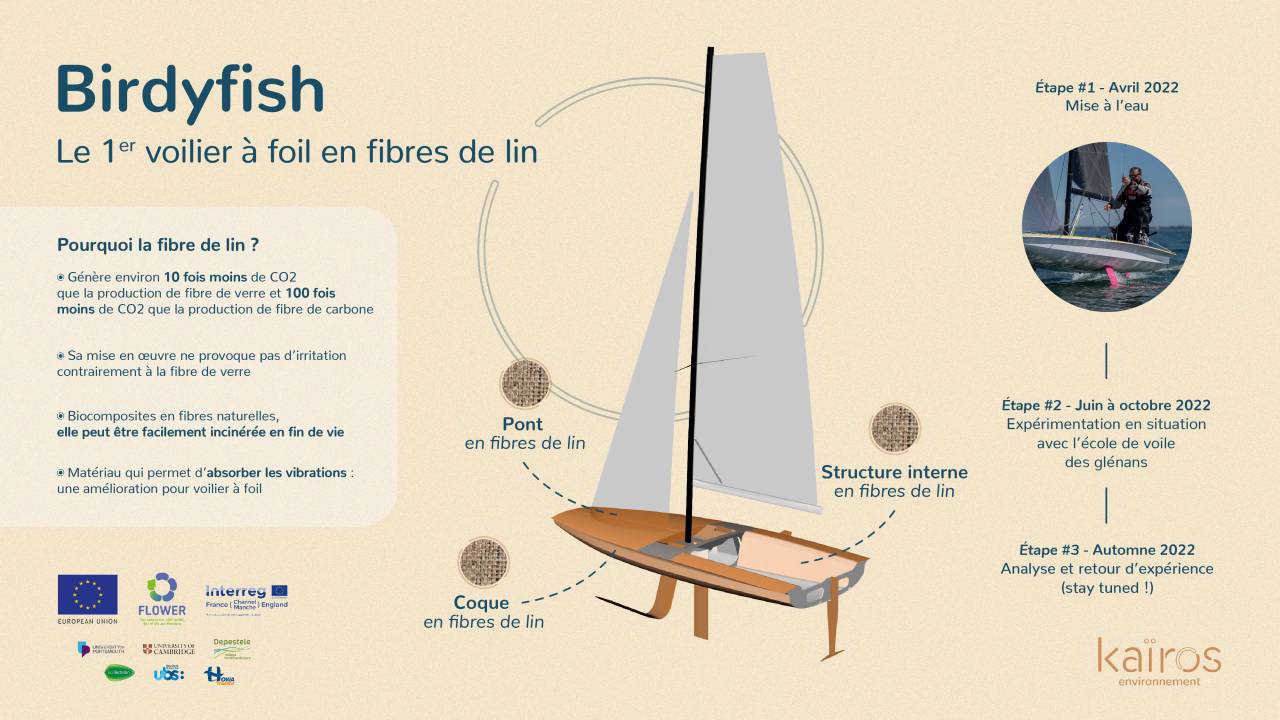 Les recherches et les collaborations rendues possibles par le programme FLOWER ont également amenées à la création du Kairlin®, matériau 100% biosourcé et compostable (en compost industriel), récemment vainqueur des JEC Awards 2022 dans la catégorie "Design & Ameublement".
L'école de voile des Glénans, laboratoire de terrain
Après une première mise l'eau en avril — et un décollage réussi malgré des conditions météorologiques défavorables —, le Birdy Fish made in Kaïros rejoindra les pontons de l'École de voile des Glénans pour toute la durée de la saison.
Les stagiaires et apprentis navigateurs éprouveront le voilier lors de leurs formations et entraînements. Une opportunité saisie par Kaïros Environnement pour challenger la résistance et le vieillissement du dernier-né, et ainsi poursuivre sa vocation : encourager et accompagner les fabricants et les industriels à intégrer les bio-matériaux dans leur démarche de conception.

Rendez-vous cet automne pour faire le bilan de l'expérience.
More information
www.kairos-jourdain.com