Quickie Krypton: The lightest carbon wheelchairs worldwide
Discover how Sunrise Medical and Munich Composites made the lightest carbon wheelchairs on the medical market.
Medical technology is a growing field of application for composite materials. Inherent properties such as high strength and rigidity, lightness and design freedom predestine GFRP and CFRP for various applications in the medical field. Their potential applications cover a broad range from prevention to diagnosis, therapy and rehabilitation, as well as logistics. JEC Composites Magazine took a look at an interesting interaction between Sunrise Medical and Munich Composites in developing the lightest fully-adjustable rigid wheelchair on the market, weighing just 6.2kg, and the lightest folding wheelchair worldwide, starting from 8.2 kg.
Discover how it's made !
Felix Fröhlich, managing di­rector of Munich Composites (Munich, Germany), and Felix Sebastian Ott, product manager at Sunrise Medical (Germany) answered the JEC Group questions to understand how this new wheelchair is made.
JEC Composites Magazine: Sopur/Quickie Krypton R is the lightest fully-adjustable wheel­chair with a carbon fibre frame made by your company. How did this successful cooperation with Sunrise Medical start and gain momentum?
Felix Fröhlich, Managing Director at Munich Composites GmbH: "A few years ago, as a developer and manufacturer of automated CFRP components, we were looking at new application fields for our high-performance complexly-distorted hollow fi­bre components. Sunrise Medical realized the potential of our innovative braid processing technology and with Felix Ott, we had a very knowledgeable contact person. During the past few years, we built up a trustful partnership. Our fully-automat­ed braiding process and our engineering expertise for the tubes, in combination with a special bonding process devel­oped by Sunrise Medical, made the perfect match."
Felix Sebastian Ott, product man­ager at Sunrise Medical added:
"Our goal was to set a new standard: the lightest, fully-adjustable and con­figurable wheelchair." Since Felix Ott is personally concerned and a wheelchair user himself, he knows exactly what it takes to improve people's lives. His personal vision is to always improve stability where it is needed according to the motto "as strong as necessary, as light as possible". "The user-cen­tered approach is particularly important to him. It took almost two years to finetune every aspect of this auxiliary device and finally create what he refers to as "the best wheelchair I've ever used. Period.»
Revolutionary engineering
There are several ways to build carbon tubes. But they are the first wheelchair manufacturer to use patented, innovative seamless carbon braid technology. This fully automated BRAID process makes it possible
to build the perfect frame – strong wherever necessary, light wherever possible, manufactured with a precise and reliable automated process.
Felix Fröhlich, continued:
"The frame of the Sopur/Quickie Kryp­ton is around 40% lighter than conventional aluminium tubes, with a significantly higher stiff­ness. This engineering technol­ogy had to withstand strong testing conditions under freez­ing cold and desert hot condi­tions (-20°C to +70°C)."
JEC Composites Magazine: What are the main advantages of the carbon material in this particular wheelchair model?
Felix Fröhlich : "Apart from a signifi­cant weight reduction and the captivating design options, the driving characteristics are apparently very convincing due to the material's stiffness. The vibrations during the drive are noticeably softe­ned. Another very positive aspect is the warm touch of the material due to its poor thermal conductivity. Car­bon prevents the unpleasant cooling down effect. Wheel­chair users always comment this positive material aspect, especially during winter time."
Designed to stand the test of time
They spare no effort to prove the reliability of the Krypton. Every part was approved only when their test engineers were 100 % satisfied with its quality. The Krypton was even tested under freezing cold and desert hot conditions (-20°C to 70°C). No aging test has verified its lifespan to truly deliver a wheelchair that's designed to stand the test of time.
JEC Composites Magazine: What is your vision when it comes to future application fields of your CFRP compo­nents?
Felix Fröhlich : "The entire field of ra­diography and CT imaging could be interesting for us in the future, heading for an automated production pro­cess, which is our core com­petence."
About Munich Composites:
The company was founded in 2011 as a spin-off from the Technical University of Munich, won the JEC Group Innovation Award twice, once in 2012 in the Sports & Leisure category and again in 2015, in the Transportation category. With a production of over 15,000 CFRP parts in 2020, the company is mainly serving customers in the sports & leisure, automotive, aviation and medical sectors. Munich Composites is the leading manufacturer of carbon bicycle wheel rims in Central Europe with over 10,000 units annually.
Want to discover more applications?
Register now and discover the latest JEC Composites Magazine.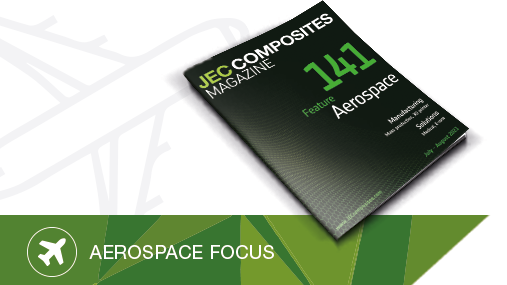 More information
www.munich-composites.de