Toray develops a printing technology to form semiconductors circuits on flexible films that employ high-performance semi-conductive carbon nanotube composites
Toray Industries, Inc., announced that it has created a printing technology to form semiconductors circuits on flexible films that employ high-performance semi-conductive carbon nanotube composites. The company also announced that it has fabricated radio-frequency identifiers (RFIDs) and sensors on general-purpose films and has demonstrated their wireless operations.
One prospective application of Toray's technology is UHF RFID, which could enhance retailing and logistics efficiency by automating cash registers and reduce inventory control labor. Diverse other applications could encompass such security fields as counterfeiting prevention and sensors at medical and eldercare sites. Toray will collaborate with external partners to develop systems and applications to swiftly commercialize its semi-conductor circuits.

Efforts to develop new materials and coating techniques to form semiconductor circuits on films, have progressed, especially for organic semiconductors. It has been challenging, however, to improve mobility. This indicator of semiconductor performance has languished at just 20 cm2/Vs.

Toray overcame this challenge in 2020 by attaining a world record mobility of 182 cm2/Vs for a printing with its proprietary semi-conductive carbon nanotube composite technology. The company also created p-type (positively charged) and n-type (negatively charged) semiconductors needed to form of low-power complementary metal oxide semiconductor (CMOS) circuits. It additionally fabricated RFIDs on glass substrates by using inkjet technology, demonstrating they can be used for wireless UHF communication.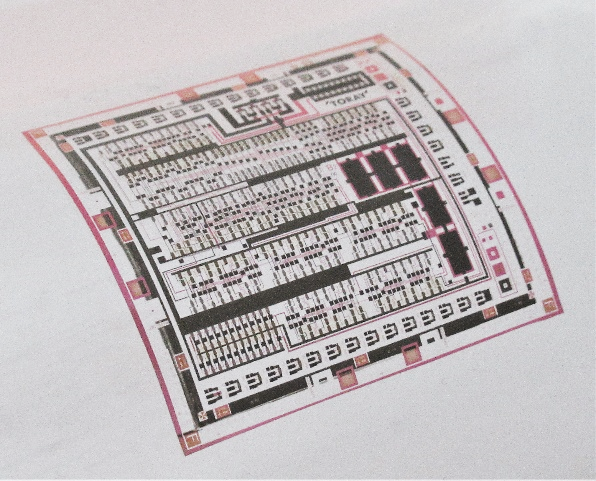 Toray found, however, that film would stretch and shrink during fabrication process. This caused wiring and electrodes to misalign and impaired performance.

The company engaged in improving materials to lower process temperature and shorten process time, and succeeded in suppressing film stretch and shrink. It additionally applied shape tracking high precision inkjet technology developed by Toray Engineering Co., Ltd. Toray thereby established a printing technology to precisely fabricate CMOS and other semiconductor circuits, rectifiers, and memories on film.

Integrating these underlying technologies and antenna enabled Toray to fabricate an RFID on a general-purpose polyester film and communicate wirelessly with UHF band waves. Toray also developed a sensor and demonstrated its wireless water detection. This expands its new technology not only to retailing, logistics and security fields but also to medical and eldercare sites, such as urination detections.

By enabling direct semiconductor circuit printing on films, Toray's technology offers considerable design flexibility and can cater to small-lot production needs. The company plans to initially start with small-lot, short-range wireless communication applications that take advantage of this feature. It will thereafter broaden applications as it builds up results and cuts costs.

Toray promotes strategic open innovation and collaborates with key partners to accelerate efforts to propose solutions including systems, by utilizing innovation hub capabilities of the R&D Innovation Center for the Future on the premises of its Shiga Plant. The company will endeavor to develop revolutionary materials that transform societies in keeping with its commitment to innovating ideas, technologies, and products that deliver new value.
More information
www.toray.com