Welsh Dragon Showcase illustrates capabilities of Compcut Precision Composite Router
A challenge for precision composite cutting was undertaken by the team at Compcut, the specialist division of Sharp & Tappin, to test the capabilities of its Precision Composite Router (PCR) 300 series. The challenge of crafting a Welsh symbol was commissioned by Port Talbot-based test lab R-TECH Materials. The dragon celebrates Wales making the World Cup for the first time since 1958.
Its emblazoned red carbon fibre was achieved using a unique carbon colouring system developed by Hypetex. The piece was laminated by resin technology at R-TECH's test laminate manufacture facility.
Due to the complexity of the dragon shape, the PCR 300 was chosen for its 'hybrid' machining solution of milling and grinding; offering a versatile range of cutting and finish abilities that ultimately demonstrated the machine's impeccable cutting intricacy.
The process began with the machining of the vac bed to which the carbon fibre composite material was placed atop, ensuring a fixed position by vacuum pressure. A rough cut of the shape was then made using a 2.5mm diamond tool, before an air pressurised blow down cleaned the panel of any excess debris. Delivering an unbeaten edge and surface finish, the PCR 300 completed the challenge with small tool detailing from 2.5mm and as small as 0.5mm.
"This was a fun exercise for the Compcut team to undertake; to challenge our PCR and reaffirm its position as an unbeaten cutting solution for refined, clean finishes to composite materials, every time. This was also a positive joint venture, demonstrating collaborative efforts with our friends at R-TECH Materials, as well as showcasing the vivid, unique colouring technology from contributor Hypetex." said Jon Small, Compcut Sales Manager, on the importance of the challenge.
The PCR 300 is a broad utility that is safe and simple to use, providing fast and precise machining. The Welsh Dragon trial has encapsulated the Compcut Challenge that has spent the year testing and showcasing unprecedented benefits of the Compcut cutting machines.
The Compcut Challenge asks businesses to question their traditional approach to cutting composite materials, by supplying their own materials to test the machines' versatility. Producing consistently accurate test samples for precision engineering has shown to be an inconvenient activity that is slow, dirty, and labour intensive. Now, many engineering firms and academic institutions have experienced first-hand the power of Compcut, as have countless visitors to shows such as JEC World, where live demonstrations have taken place.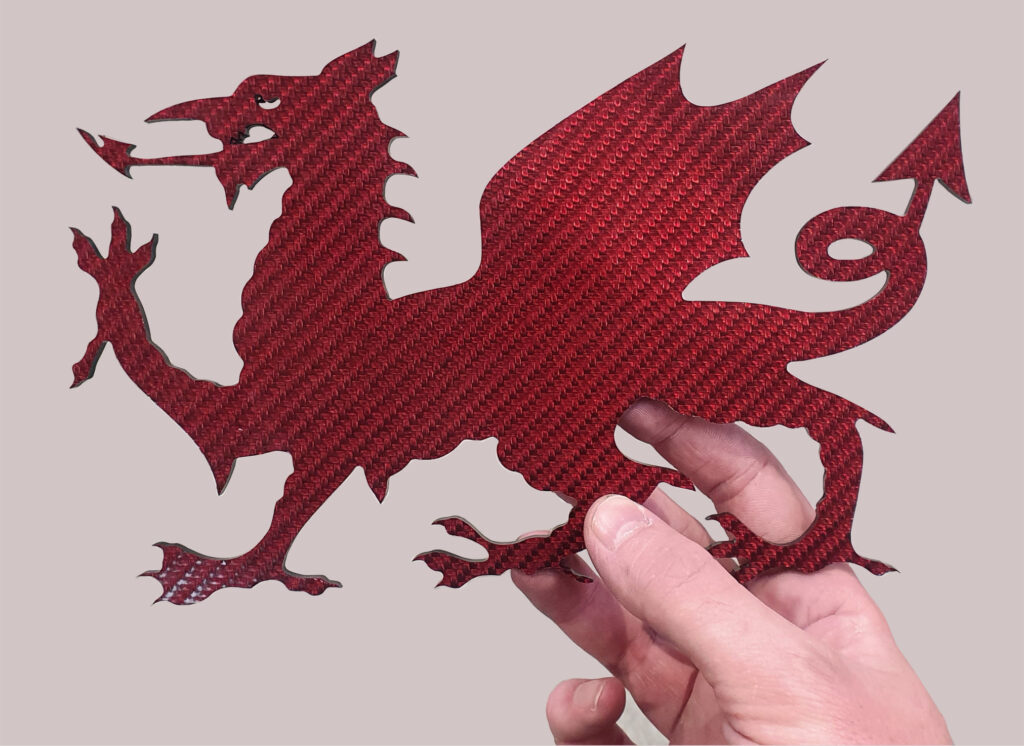 The company has yet to be beaten by any cutting trial. The challenge has previously been taken up by businesses such as the National Composites Centre (NCC), in which their Precision Composite Router efficiently cut dog-bone shaped specimens from Ceramic Matrix Composite material (CMC). Further accreditation has come from Composite Test & Evaluation (CTE). Two Composite Plate Saws (the Compcut ACS 300 and ACS 1200) are currently in use by the centre, including a PCR 300 that has significantly increased delivery of high-quality specimen manufacturing. The accurate cutting has further led to less wastage of material and less harmful carbon debris in the atmosphere, improving its environm
More information
www.compcutacm.com